Fine Chocolates Cannot Be Better
---
Just Spoil Yourself, Indulge in the Sinful

Audacious Adventures of Your Dream Chocolates.
Confectioners & Chocolatiers :  Fine Chocolates, Dark Chocolates, Milk Chocolates, White Chocolates, Ganaches, Truffles, Creams, Butter Creams, Caramels, Toffee, Turtles, Sponge Candy, Nut Clusters, Nut Bark, Fudge, Meltaways, Cordials, Marshmallows, Nougat, Marzipan and more…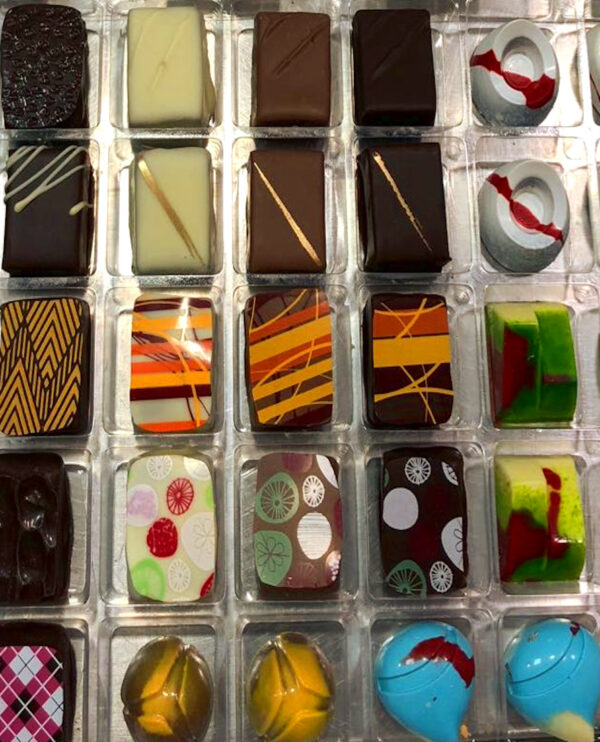 Chocolates for All Occasion: Corporate Gifts, Birthdays, New Born, Valentine Day Gifts, National Day Celebrations, Ramadan Gifts, Eid Celebrations, Christmas and New Year Gifts, Dassera and Diwali Gifts, Exhibition Stands, Anniversary Gifts,  Parties and Events and more ..
Premium Quality , Professional Wrapping, Excellent  Presentation  and Best Value for your Money.
Create Your Own

Assortments

* Great Selections
* Creative Flavors
* Elegant Assortments
Meant for true connoisseurs of fine chocolates.
Delight Chocolates Range: We keep it simple, but delicious.

The Chocolate Luxury Treats
Our Luxury Collection…a welcome treat for any celebration.
Try our Allergy Friendly Chocolates for the ones missing the taste
---
Your Passion & Love now has an Expression
Elegant Chocolate Gift Boxes
Elegant Chocolate Gift Baskets
Elegant Chocolate Gift Bouquets
Each of them is unique,thoughtful and beautifully designed by experts.
Brimming with Endless Ideas
Possibilities & Your Dreams
Email Us : info@delightchocolates.com
---
Sign up with your email address to receive news and updates.
Delight Chocolates Welcoming regional and international hospitality financial and technology professionals, visitors and exhibitors to the Hotel Show Dubai 2023 at Dubai World Trade Centre from 23 to 25 March 2023 Timings: 11 AM – 7 PM Daily. Thank you for your Continuous Support and allowing us the responsibility and opportunity to provide you, our products and services. We truly appreciate your business, and we're so Grateful for the Trust you've placed in us.